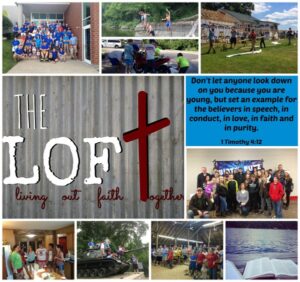 Covenant UMC Youth Ministries offers many opportunities for students from 6th to 12th grade to connect with God and others. Listed below are a few of our opportunities:
Sunday School (9:45-10:45 AM)
Our Sunday Morning Groups offer the youth a time to grow in their wisdom and knowledge of God, and learn how to relate biblical truths to life.
Middle School Class: Meets weekly in the Youth Center.
High School Class: Meets weekly in the Youth Center.
Wednesday Night Gathering (6:30-8p)
Our Sunday Night Gatherings are a terrific place for youth to get connected with the youth ministry and bring friends who might be new to church. Our Sunday Night Gathering meets during the school year on Sunday evenings from 6:30-8:00 PM. in the Youth Center.
The Sunday Night Gathering has four components:
Food – Eating dinner together as a group.

Fun – A planned activity or game to bond as a group.

Formation – A time of worship, reflection, and response that connects youth with God and each other in an experiential way.

Fellowship–A time of conversation that helps youth be formed to the image of God.
These four components are integrated to maximize making God's story our story, to retain the story by living it into the world, and to share it with others along life's journey.
Events, Activities, Schedules, and Volunteers
We believe that being together is important! Throughout the year, there are a variety of opportunities to attend events, retreats, and other special services. We also offer many opportunties for adults to serve in the youth ministry.